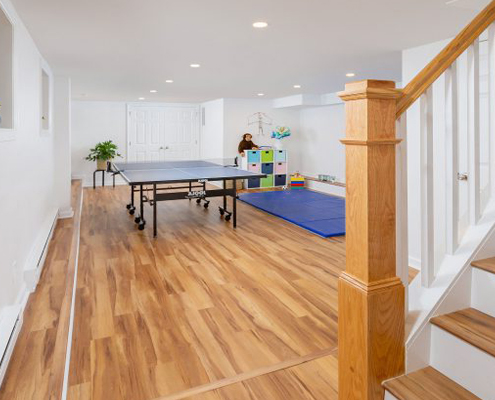 To get the most from this treasured space, professional basement design will give you results that cannot be ignored. What you want from your basement all depends on the unique needs of the homeowner.
Beautiful basement design is affordable!
Call (205) 938-4075
From exquisite bars to comfortable family rooms to stylish home gyms, we can create an oasis.
Basement Design Ideas
When we talk to clients, we ask them what the best basement design for them would be. Not only is the overall objective of the room renovation important, but we focus on the details that will make it truly superb.
Many of our clients come to us and know only what function they'd like the room to perform. While others have clear expectations of every color, every handle, every light fixture and so on. No matter where you are on that spectrum, our remodeling can provide you with a functional, beautiful basement design.
Family room – When our busy days are finally over and we can spend time with our families, we want to do it in a comfortable space. But family rooms are notoriously overrun with a collection of everyone's stuff and with nowhere to put it. Our basement design contractors can provide you with built-in storage that will give you all the function you need while still looking great.
Mother-in-law suite – Whether you have someone moving in with you that needs independent living space, want room for guests or want to enjoy rental income, a mother-in-law suite provides an entire living space all on its own. With a kitchen, bathroom, bedroom and living space, you can increase the value of your home. And because we're experienced basement remodeling pro's, we can often even create a private entrance to the basement.
Man Caves – Basements are very versatile rooms that can accommodate nearly any purpose. Let your imagination run wild and decide what you've always wanted in a home. Home gyms, home theaters, and office spaces are just a few of the popular options people choose. But by finishing your basement, you are only limited by your imagination and budget.
Our reputable basement contractors have the experience to back up their reputation. Highly rated with both Angie's List and the BBB, we strive to give clients the best results at affordable prices. We work with them throughout the process to stay on track and leave them with a smile on their faces.
We specialize in beautiful basement design in Birmingham, Hoover, Homewood, Vestavia, Mountain Brook, Pelham AL, Trussville, Chelsea, and Helena, AL.