We are the Best Choice for Home Remodeling, Renovation and Custom Home Building in the Birmingham area.
Birmingham Area Homeowners Choose Us
Reputable, Licensed & Insured
All reputable home remodeling companies in Birmingham should be and we are.
Alabama Homebuilders Member
We are proud members in good standing with the Alabama Home Builders Association.
Affordable Remodeling Prices
The highest quality home remodeling services at cost that's fair and reasonable.
We completely design, plan and build the home renovations you always wanted.
Decades of Remodeling Experience
We bring some of the most talented and highly experienced craftsman in Alabama.
Phenominal Customer Experience
We keep our clients in the know and up to date before, during, and after the project.
It would be difficult to find a more affordable home addition builder in Birmingham who matches our quality, professionalism and top-notch customer service.
Whether you have an outdated basement from a previous decade, or simply want to build your dream living space below, we have the skills and prices to do it.
Does the attic in your home beg to be converted into an additional bedroom, bathroom, living space or all of the above? Let us show you how affordable it is.
Dollar for dollar, there isn't a more affordable way to add on additional living space to your home than a covered porch. Enclosed or screened, we build them right.
As one of the most used spaces in your home, remodeling your kitchen to be the culinary and gathering space that you deserve is very affordable.
The bathroom remodeling services that we provide dramatically transforms this personal area into a relaxing retreat and fits almost any budget.
Birmingham Home Remodeling and Renovation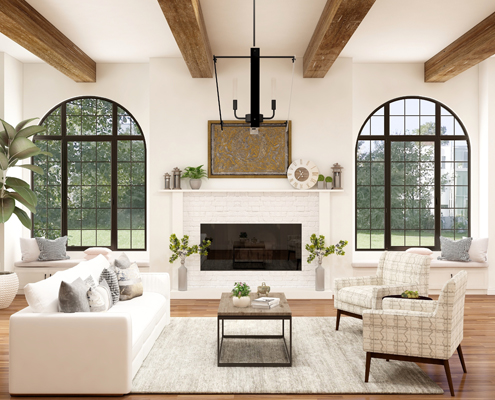 Home remodeling and renovation have been our specialty for well over a decade. Your home is a place where you should feel most comfortable.
Looking for professional home remodeling and additions? Let Us show you beautiful, affordable options! Call (205) 938-4075
So when something in the design or layout isn't working well, it can add stress to your life. We eliminate stress by providing affordable home improvement options that can dramatically improve the style and function of your house.
When professional remodeling results blend seamlessly with value and affordability, the possibilities are endless.
Home Renovation Contractor Birmingham AL
Home renovation is one of the best ways to create the living spaces that you want, not necessarily of the person who built your home. While we have decades of experience building and remodeling homes, some of the more common requests involve:
Basement Remodeling
If you have an unfinished or unusable basement, you are wasting valuable square footage in your home. With our finishing, renovation and design services, you can add value to your home and give your family a more comfortable lifestyle. Create a new family room with plenty of space for everyone or a mother-in-law suite where guests have privacy. Indulge in a home theater, gym, or other specialty design to accommodate your hobbies and passion. Your imagination is the limit!
Attic Finishing
Just because your attic is dingy and dusty now doesn't mean it has to stay that way. If you have the right amount of space, you can convert it into a living area that loved ones will fight over. Increasingly popular, attic lofts are the perfect location for a teen who wants independence or the treasured, "man cave". Our home remodeling contractors will help you choose the right design and build it beautifully.
The other service we provide in the top space of your home is Attic Insulation. We're often told about how much lower our customers' utility bills are after installing brand-new Owens Corning Pro-Cat Attic Insulation. It's the best because it won't hold moisture, never settles over time, and keeps your insulating R-Value up high where it should be.
Home Addition Contractor
When you've used every inch of existing square footage, but you still need more, a room addition may be just the answer you're looking for. We can build anything from necessities like extra bedrooms and bathrooms to more indulgent features like patio enclosures, including sunrooms, screen rooms, and covered porches. Getting the space you need is as easy as picking up the phone and calling us for a free estimate. And for the most complete home addition services available, we are also expert deck builders.
On the exterior of the house, you'll often see us doing a rain gutter installation, replacing windows & siding, and even applying stucco or mortar wash! There is just no limit to the professional home renovation we can offer you.
On the inside of your home, painting and changing lighting and plumbing fixtures can really make things pop!
Your home can be what you want it to be. More homeowners are trusting our experience for all of their home renovations. We're licensed, insured, and ready to transform your home. Call now.
We are a professional home remodeling company in Birmingham, Serving Hoover, Vestavia, Homewood AL, Trussville, and Mountain Brook.