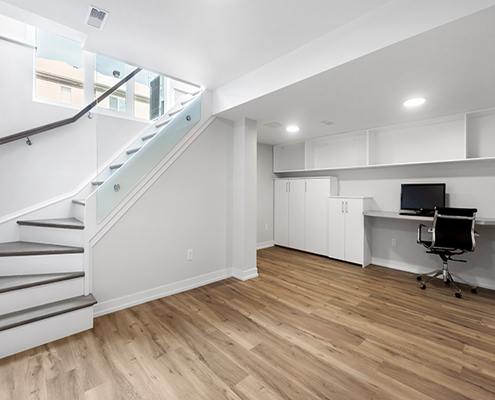 Basement finishing in Birmingham is very affordable. Let us show you just how amazing your downstairs can really be!
Finally get the living space you want with affordable basement finishing!
We're Reputable, Talented and Very Affordable.
Call (205) 938-4075 Today!
Many homeowners think that completing their basement is a renovation project they'll get around to. Most find that a lack of time, ability or experience keep it looking that way and that's when they need our help.
Basement Finishing Contractor Hoover AL
The best basement design is the one that works for everyone in the house. As basement finishing contractors in Birmingham, we talk to our clients about how they plan to use the area and come up with a design that has awesome functionality combined with style.
One of the most common goals of basement finishing projects is providing adequate storage for the family. From built-in shelving to discrete closets, we help you get the most personalized storage to fit exactly what you need. To cut down on excess furniture, we can create custom shelving to house your entertainment system that will give your basement a seamless look.
Our expert contractors will eliminate the worry that comes with major projects and ease you through the design process. We will help you choose everything from the floors to the paint and create a fully functional layout that works for you.
Completing your basement can be as simple as putting in flooring, painting the walls and adding appropriate fixtures. But it can be as complex as adding bathrooms and kitchens, creating stadium seating for home theaters and more. With ten years of experience in home remodeling and contracting, we can handle every aspect of your job. We are a local basement finishing company that provides you with high-caliber work at affordable prices. Contact us now to start transforming your home.
We specialize in professional basement finishing in Birmingham, Hoover, Homewood, Vestavia, Mountain Brook, Pelham AL, Trussville, Chelsea, and Helena, AL.