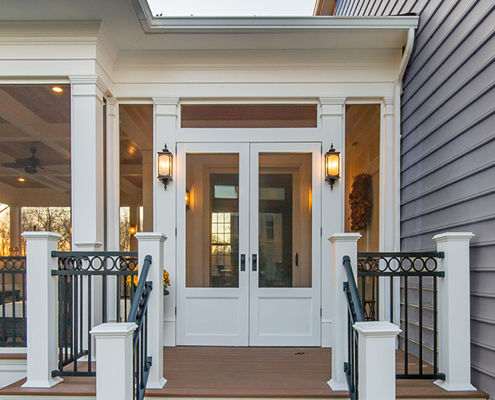 Don't settle for old, outdated, or cramped. We are a reputable home addition contractor with the experience to revamp your home and give you the features you need.
Choose a reputable home addition contractor to make a difference in your home.
Call (205) 938-4075
With over a decade in the industry, our team can handle nearly any project at affordable prices. The great service starts with a free estimate and lasts throughout the duration of the project. Call us now to get started on your home transformation.
Home Addition Contractor
It's important to do your homework before hiring any professional remodeling company. Are they licensed, insured and reputable? Always read their independent reviews and confirm their Better Business Bureau rating.
Core Builders Remodeling and Restoration is a member of the Alabama Homebuilders Licensure Board and has no complaints with the BBB.
Room Additions
Adding to your home is almost always a good thing. As long as it doesn't steal away from an already small yard, it can add some serious value to your home. It can also make life a lot easier. As your local home addition contractor, we provide the best designs and ideas to make your home function better for your needs. Whether you need more living space or an extra bathroom, we'll build the difference you need!
Deck Builder
Not all professional home addition contractors provide deck-building services. But we do! We use both natural and engineered wood to give you the look and maintenance level you want at a price you can afford. Our overall goal is to ensure that your deck is perfect in every way, from style to safety.
Patio Enclosures
When you decide you want a patio enclosure, you have options on how much coverage and protection from the elements you want. As a local home addition contractor, we can make recommendations on what might work well for you depending on the location of your home. We build:
Sunrooms
Covered Porches
Screen Rooms
Because we're the best home addition contractors in the area, we offer these patio enclosures in vinyl, aluminum, or wood. You can have the design you want at a reasonable cost. With over a decade of experience and no complaints with the BBB, we're a home addition contractor you can trust with remodeling your home. Call us today for a free estimate on your project.
We specialize in professional home additions in Birmingham, Hoover, Homewood, Vestavia, Mountain Brook, Pelham AL, Trussville, Chelsea, and Helena, AL.