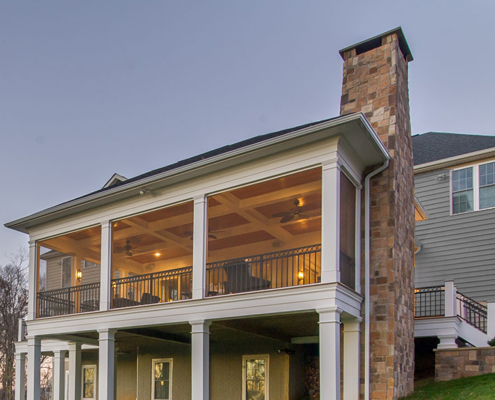 A covered porch offers the classic idea of comfort for a home. With our assistance, you can enjoy the outdoors and an unobstructed breeze without worrying about rain.
Stay outside, rain or shine with a quality covered porch. Call (205) 938-4075
We offer years of experience accompanied with courteous service and excellent design. Contact us today for a free estimate on your project.
Covered Porch Contractor
For most people, their home is their largest purchase. So investing in it is a wise choice. As a professional covered porch builder, we can help you boost the curb appeal of your home and increase the resale value. We can build a single-story pergola with beautiful railing or a covering that doubles as a balcony for your second-story.
Front Porch – If your front patio area is lackluster, we can spruce it up with some truly unique screened-in porch ideas. We use a variety of materials to accent the existing style of your home. From rustic woods to elegant wrought iron, your porch can be anything you want it to be.
Back Porch – While the front porch is the first impression, the back porch is the lasting impression. This is a place where you can go to spend time with friends and family. Enjoy a seating area with a ceiling fan for added comfort. Bring indoor amenities outside with an outdoor kitchen and a television.
Screened Porch – As a reputable screened-in porch contractor, we can build you a bug, leaf and critter free outdoor living space. Complete with lighting, fans and anything else you could need to be very comfortable. Today's screens are strong and tear resistant.
Wrap Around Porch– Nothing is more inviting or more homey than a wrap-around porch. Regardless of weather conditions, this gathering space is perfect for entertaining or just relaxing.
Covered Porch Builder
With us as your local enclosed porch contractor, you can make the outdoors a part of your home. Our complete services begin with meticulous planning to ensure the results will be exactly what you have in mind. While some contractors struggle with delays because of unreliable help or miscommunication of orders, we pay attention to the details and keep your project on track. Contact us now for a free estimate!
We specialize in covered porch construction in Birmingham, Hoover, Homewood, Vestavia, Mountain Brook, Pelham AL, Trussville, Chelsea, and Helena, AL.