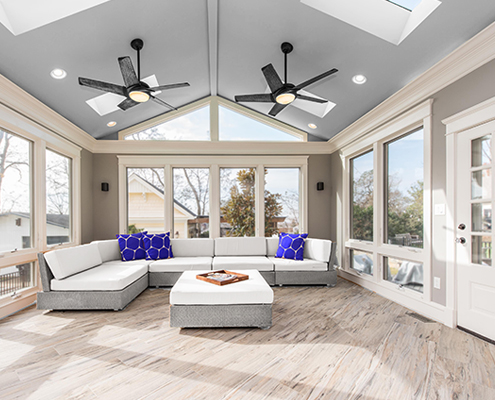 A beautiful sunroom can add value and style to your home. Sometimes referred to as an all-seasons room, it offers you a panoramic view of the outdoors without experiencing the elements. Perfect for those hot days when you want the sun but not the heat, contact us now to begin planning!
A Sunroom gives you the experience of being outdoors with climate control.
We build the best at a great price too!
Call (205) 938-4075 today.
Do you think that all of these home additions are aluminum and glass? Think again! A quick tour through our galleries will show you examples of beautiful rooms that match or add to the aesthetics of your home.
Sunroom Builders
In the days of the past, the typical sunroom was just a totally enclosed space with lots of windows to enjoy your backyard views. Technology, advancement in construction, and other improvements allow us to design a room with all of the luxury of the indoors. The only question you need to ask yourself is: how wild will you let your imagination run?
The best sunroom ideas start with you. What is your home missing? Do you need a dining room or a family room? Do you work from home and want a better view while you sit at your desk? When you work with us, you get over a decade of experience helping clients like you design unique spaces.
Your dreams aren't out of reach. Our reputable sunroom builders work with a variety of materials that will make creating a new area of your home finally affordable. With options like vinyl and aluminum, you can count on long-lasting stability without losing the overall attractiveness of the design. We use double-pane windows and provide you with energy-efficient options that will continue to save you money on your utility bills for years to come.
Professional Sunroom Contractor
With the extra square footage, you can look forward to increasing your home value and making it more attractive to prospective buyers if you decide to sell. Considering the short- and long-term benefits, building a sunroom onto your home is an investment you shouldn't pass up! We provide a free estimate on all of our projects. Call now to expand your horizons!
We specialize in affordable sunroom construction in Birmingham, Hoover, Homewood, Vestavia, Mountain Brook, Pelham AL, Trussville, Chelsea, and Helena, AL.