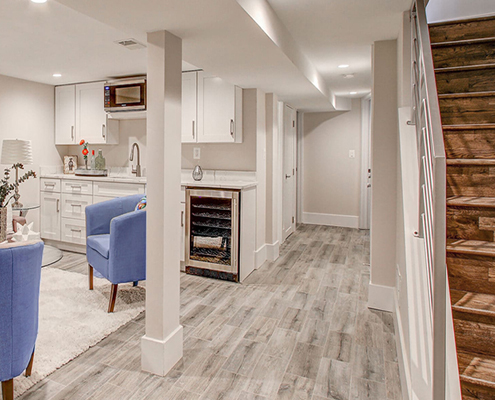 An affordable basement renovation can dramatically change the way your living space looks and functions. Get professional results for less than you think.
It's out with the old and in with the bold when you choose basement renovation!
Call (205) 938-4075
Although your old basement may have served its purpose a while ago, families grow and change. You may need more bedrooms or a home office. Or you may just be tired of the same old look.
No matter what your reason is for the change, we can do anything from updating or finishing the area to completely transform it. Contact us today for a free estimate on your project.
Basement Renovation Contractor Birmingham
When a part of your home doesn't serve its purpose, it can put a strain on your family and their schedules. Our team of professional basement renovation contractors can evaluate the current issues you're having with the space and help develop solutions. Some of the most common problems have are: not enough space, poor layout, and outdated appearances. In some cases, families are experiencing all three!
But none of these are problems that can't be fixed. A lot of families prefer to have wide open basements that accommodate family togetherness. That can be hindered when you find yourself crowded by several small rooms. We can carefully take down the walls and give you a more open and airy feeling to the space, paying close attention to the structural security.
Likewise, if a layout isn't working well for your family, we can change it with a new basement design. Maybe you've already got two bedroom and a bathroom, but you'd prefer a mother-in-law suite. We can help you turn two bedrooms into one and build a beautiful living space for short- and long-term guests. The best basement renovation ideas give you just the solutions you've been needing.
Local Basement Renovation Company
We've spent over a decade mastering our remodeling trade, and it shows in our no complaints rating with the BBB. When you're tired of the way your basement looks or it not having the features you want, give us a call. We'll evaluate your needs and provide you with a free estimate. Contact us today!
We specialize in affordable basement renovation in Birmingham, Hoover, Homewood, Vestavia, Mountain Brook, Pelham AL, Trussville, Chelsea, and Helena, AL.