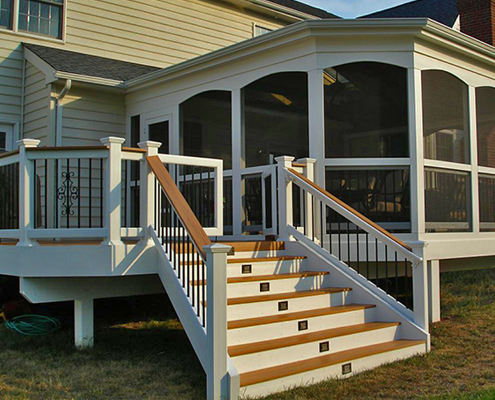 As professional deck builders, we aim to give our clients an outdoor space that complements their home beautifully.
We are Reputable deck builders creating
the perfect outdoor space. Call (205) 938-4075
Every client is different and has different needs for their deck. No matter what your needs are, we can accommodate with a unique design that works specifically for you.
Professional Deck Builders
The best deck builders take their time looking at the current space and talking to the homeowner about what's working and what isn't. Many decks suffer from having poor flow which doesn't allow family and friends to move around easily. Cookouts lose some of their fun when people are constantly having to sneak through small spaces to get back to their seats.
We are quality deck builders that will take shape and size into account. Sometimes, there are obstacles near the home like trees, pools and other permanent structures that would seem to limit the size of a deck. But with creative design, we can carefully craft a uniquely shaped platform around the obstructions and give you the space you need.
Composite or Natural. We use both natural and engineered wood decking. Depending on your preferred level of maintenance, your budget and your style, one may appeal more than the other. We'll help guide you through the different types and colors to find the best match for you.
Our experienced deck builders use best practices to ensure that the construction of your deck is second to none. The safety of your family is our first priority, so we evaluate structural soundness throughout the process. We also build and install beautiful railing to give the deck a complete look and a higher level of safety.
Local Deck Builders
Licensed and insured, we are deck builders that will give you the results you want. Through expert construction using premium materials, we will give you decking that will last a lifetime. Contact us today for a free estimate on your deck project.
We are professional deck builders in Birmingham, Hoover, Homewood, Vestavia, Mountain Brook, Pelham AL, Trussville, Chelsea, and Helena, AL.