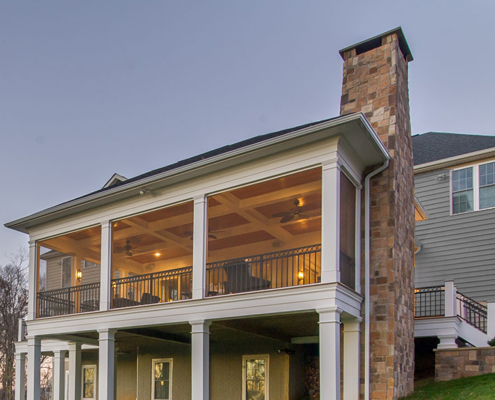 Back Porches do so much more than serve as a gathering spot for family and friends; they add value and character to your home.
We can design and build you the back porch that you & your home have been dreaming of!
Call: (205) 588-2792 Today!
From plain and simple to sprawling wrap-around porches, we can build you an outdoor entertaining addition for less money than you think.
Back Porch Additions
There are very few exterior home additions that offer year-round use. Many homeowners request to have a screened back porch in an effort to keep bugs and leaves out. Others choose to have wide-open, unobstructed views with vaulted ceilings and exposed rough-cut beams.
Regardless of the purpose you have in mind for your back porch, Core Builders Remodeling can construct it in just a few short weeks.
Types of Back Porches
Let your imagination run wild when it comes to the types and styles of back porches. Certainly, you've seen all shapes and sizes in your neighborhood, but which one would look the best on your home? Some of the more popular back porch ideas include:
Wrap-Around

– These covered areas are seldom enclosed and wrap completely around the entire rear of the house. Truly one of the more dramatic additions you can add to your abode.

Second Story

– Because of the terrain we have in north central Alabama, many back porches are built at the living area level. Building stairs with landings help make them easily accessed.

Covered

– The most basic requirement of a back porch is to provide shelter from rain or sun. A covered porch can accomplish this task and do it with style. Vaulted ceilings with lighting and fans are common.

Screened

– The purpose of a back porch is to provide an outdoor area for gathering and relaxing. By screening the area with rip or tear-resistant material, you can do it pest free.
We design and build back porches in Birmingham, Hoover, Vestavia, Mountain Brook and Pelham, AL.