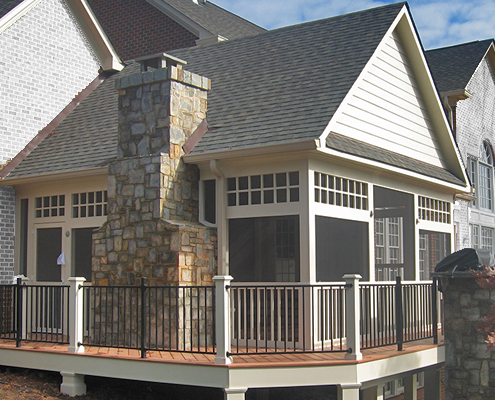 A screened porch can quickly give you additional outside living space. When built properly, they keep bugs, animals and leaves out so you can relax.
Looking for a local enclosed porch builder? We're insured & affordable!
for a free estimate Call: 205-588-2792.
When you want to enjoy the outdoors without all of the nuisances that sometimes come with it, a screened-in porch does the job. Whether you need us to build a covered porch, deck or patio first or you have an existing one; enclosing this area with breathable, rip-resistant material is fast.
Screened Porch Additions
When you're looking at plans or designs for screened-in porch additions, always be sure to consider the architecture of your house. The framing, rooflines, and style should look like a natural extension of your home. The key to having a visually appealing porch is hiring the right home addition contractor.
Only licensed and insured screen porch contractors should be selected to build your attached area. Doing so will give you peace of mind and could even save you money. Quality construction really starts with a beautiful but smart design. Once in place, the materials that will be used can now be selected.
Screened Porch Cost
The cost of building a new screened porch varies upon the size and features of the area you want built. For instance, do you want to enclose your existing deck or do you need one constructed first? Were you thinking of covering the entire length of the back of your home? The answers to these questions can help determine how much your new enclosed porch will cost.
The prices for the cedar, pine or oak lumber used in construction are not getting any cheaper. Keeping the project as low cost as possible really comes from the efficiency of the build. Knowing exactly how much material will be needed to build the porch, with little or no waste can save a ton of money. Call us for a free porch estimate from us that is cost-competitive.
We are screened porch contractors in Birmingham, Hoover, Vestavia and Mount Brook, AL.